Study attributes students' healthier choices to increased availability of fruits and vegetables, finds participation in school meals program held steady after updated standards went into effect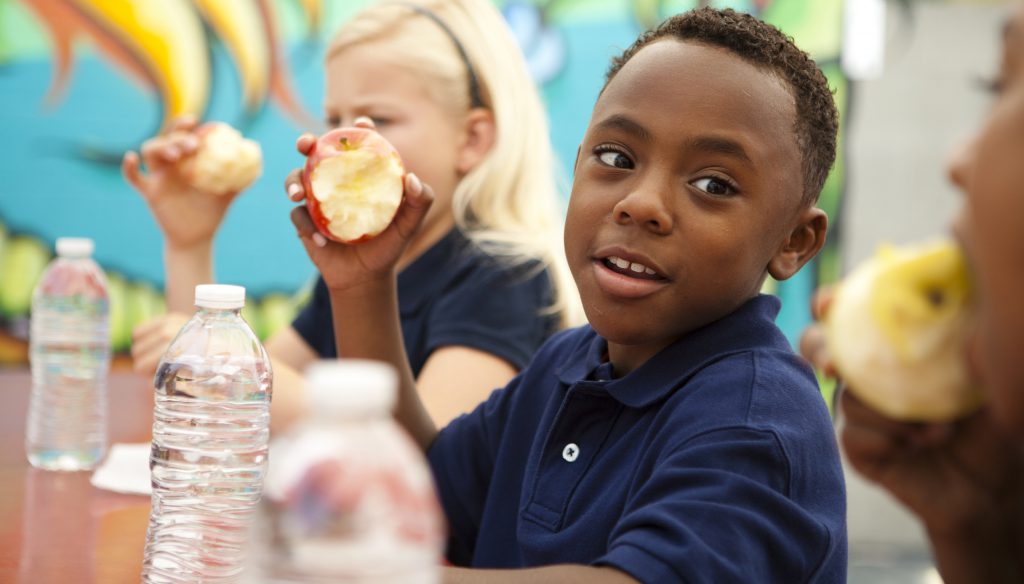 (Princeton, N.J.) January 4, 2016—After the U.S. Department of Agriculture (USDA) updated nutrition standards for school meals, students chose healthier foods with fewer calories per gram for lunch, according to a study published today in JAMA Pediatrics.
The study, funded in part by the Robert Wood Johnson Foundation through its Healthy Eating Research Program, assessed the nutritional and caloric content of more than 1.7 million school meals selected by students more than a year before and after the updated standards went into effect. The authors attribute students' healthier selections to the increased availability and variety of fruits and vegetables in school meals.
"This study shows that the updated school meal standards are effective. Students chose more nutritious meals that had fewer calories per gram after the standards were implemented," said Donna B. Johnson, Ph.D, the study's lead author and associate director of the Center for Public Health Nutrition at the University of Washington School of Public Health. "Schools are offering more fruits and vegetables and a greater variety of fruits and vegetables—we found that to be the primary reason students were selecting healthier lunches."
The researchers analyzed foods selected by 7,200 students in three middle and three high schools located in a diverse urban school district in Washington state, where 54 percent of the district's students qualify for free or reduced-price meals. The study spans from January 2011 to January 2014 during the months that schools were in session—16 months before and 15 months after implementation of the updated standards. The large sample size, long duration and inclusion of high school students set this study apart from previous research on the impact of updated national school nutrition standards.
After the healthier standards were in place, the overall nutritional quality of the foods chosen by students increased by 29 percent and the calorie content per gram decreased by 13 percent. To determine the nutritional quality of the foods students chose, researchers assessed the amount of calcium, vitamin C, vitamin A, iron, fiber and protein in each item. They determined the mean of percent daily value provided in all the foods selected each day, averaged per month for six nutrients per 1,000 calories. They assessed the calorie content of the foods served by calculating the energy density (amount of calories per gram) of each food item.
The study found no statistically significant difference in school lunch participation: 47 percent of students participated in the school lunch program before the healthier standards were in place and 46 percent of students participated after they were implemented. The researchers measured monthly school meal participation as the average number of daily meals served in all of the six secondary schools in the district divided by overall student enrollment in those schools. "The updated standards and healthier offerings did not affect participation in the meals program," said Johnson.
The updated nutrition standards—enacted by Congress in 2010 under the Healthy, Hunger-Free Kids Act and implemented by the USDA in fall 2012—are based on recommendations from an Institute of Medicine panel of experts. Currently, Washington is one of 19 states to have a 100 percent compliance rate with schools meeting the updated standards.
This study follows recent research and polling documenting broad support for healthier meals among students and parents:
A study released in March 2015 found that more students in an urban low-income school district took fruit with lunch and students ate more of their vegetables and entrees after the updated standards took effect.
A nationally representative survey of school leaders released in July 2014 revealed widespread student acceptance of healthier meals across all grade levels.
An October 2014 poll from the Pew Charitable Trusts, RWJF and the American Heart Association found that 72 percent of registered voter parents who have children in public schools nationwide favor strong nutrition standards for school foods; 91 percent support the specific requirement that schools include a fruit or vegetable serving with every meal.
"The healthier school meal standards are working. Schools are offering—and kids are eating and enjoying—more nutritious foods," said Monica Hobbs Vinluan RWJF Senior Program Officer. "Creating a Culture of Health in our schools is key to eliminating the racial and socioeconomic disparities that have fueled America's obesity epidemic. This study reinforces the need to continue, not roll back, the good work happening in schools nationwide and that includes offering plenty of fruits and vegetables to the more than 30 million kids who rely on school meals each day."
Researchers analyzed the changes in the nutritional quality of the meals by reviewing daily food production records provided by school food service managers. The records documented the number of food items produced by food service staff and the number of servings selected by students at lunch, along with the daily count of students who were reimbursed either partially or fully for the purchase of a school lunch.
There were some limitations of the study, including that it represented a single urban school district in Washington state and cannot be generalized to any other school district. The study also only examined students' purchasing behavior and not actual consumption.
---
About the Robert Wood Johnson Foundation
For more than 40 years the Robert Wood Johnson Foundation has worked to improve health and health care. We are striving to build a national Culture of Health that will enable all to live longer, healthier lives now and for generations to come. For more information, visit www.rwjf.org. Follow the Foundation on Twitter at www.rwjf.org/twitter or on Facebook at www.rwjf.org/facebook.
---
For more information, contact:
Abby Manishor
917-539-3308
amanishor@burness.com
---