Study finds that increase in school meal revenues compensates for decreased snack sales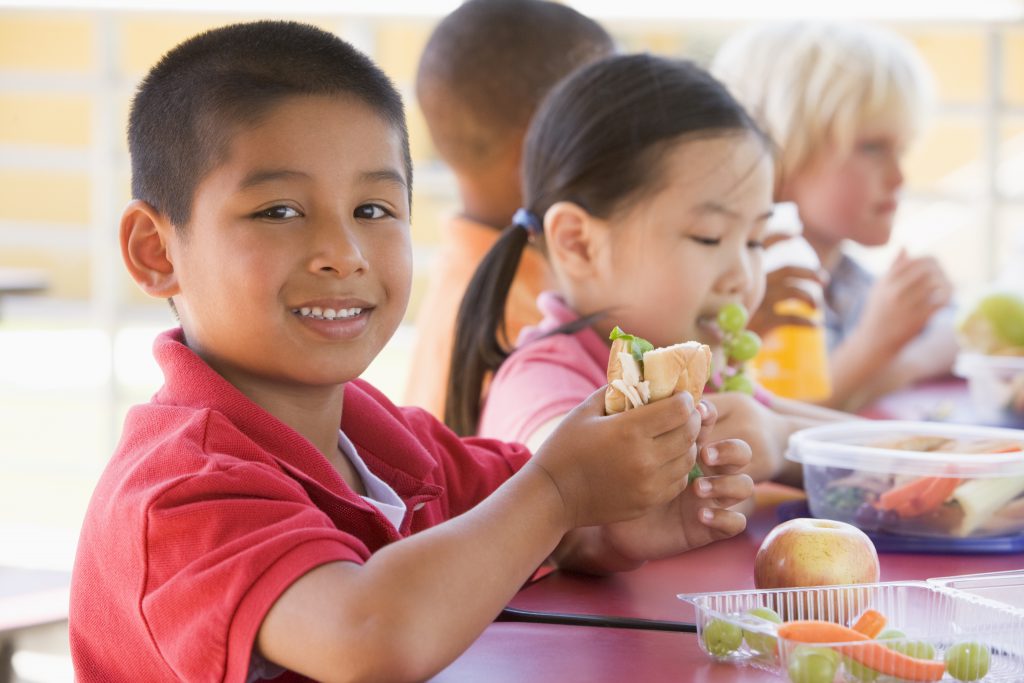 (Princeton, N.J.) April 14, 2016 – Schools in Massachusetts that simultaneously implemented healthier nutrition standards for meals and snacks reported that food service revenues rebounded from an initial decline two years after the updated standards went into effect. The study, published today in the American Journal of Preventive Medicine, finds that participation in the school meals program rose significantly among students from low-income families during the same period.
This is the first study to examine the financial impact on schools that offer both healthy meals and snacks. It was funded by the Robert Wood Johnson Foundation through its Healthy Eating Research program.
"This study suggests that school food revenues held steady when they have both healthy meals and snacks," said Juliana F.W. Cohen, ScD, ScM, the study's lead author and assistant professor in the Department of Health Sciences at Merrimack College. "We found that students spent less money on snacks, but thanks to more kids participating in the lunch program, school food revenues were not impacted long-term."
The U.S. Department of Agriculture (USDA) recently updated federal nutrition standards for school foods to help support a healthier diet among students nationwide. Schools implemented USDA's healthier standards for meals in fall 2012, and implemented "Smart Snacks" standards in fall 2014, which apply to foods and drinks sold outside of meals, including through vending machines, à la carte cafeteria lines and school stores. In 2016, schools will implement the next phase of Smart Snacks standards.
Massachusetts adopted healthier standards for school snacks in 2012 that are almost identical to the next phase of Smart Snacks, but the state's standards took effect simultaneously with USDA's healthier meals standards. This gave researchers the opportunity to examine the combined effect of healthier school meal and snack standards on revenues and participation in school meal programs.
The authors collected data from 11 Massachusetts school districts from 2011 to 2014—one year before and two years after updated standards for both meals and snacks took effect. They evaluated compliance with the state's updated snack standards, revenue from school snack sales, revenue from school meal sales and participation in school meals programs. Seven of the eleven participating districts provided financial data for the entire study period.
Schools made significant progress offering snacks that aligned with the healthier standards.
On average, compliance increased from 30 percent in 2011 to 74 percent in 2014 across all 11 districts.
The overall change in food service revenues during the three-year study period was not statistically significant. Revenues declined during the first year the standards were in place and rebounded during the second year. 
Among the seven districts that provided financial data for the entire study period:
During the first year the standards were in place, overall food service revenues decreased by 6.6 percent ($21.61) per student. This was a significant decline from baseline.

The decline was driven by decreased snack sales; there was no significant change in revenue from school meals.

During the second year, overall food service revenues rebounded—they were 1.2 percent ($3.99) lower per student than at baseline. This was a not a significant difference. Revenues per student were $329.94 in 2011 (baseline or one year before the standards were in effect) and $325.95 in 2014 (two years post implementation).

The recovery during the second year was driven by higher participation in the lunch program and increased sales of school meals.
Schools reported a 15 percentage point increase in school lunch participation among children eligible for reduced-price meals (from 58.5% in 2011 to 73.6% in 2014). Participation rates among students eligible for free meals and students purchasing full-price meals did not change.
Consistent with national trends, sales of school meals contributed substantially more to overall food service revenues than did snack sales.
Among the seven districts that provided financial data for the entire study period:
In 2011, meals contributed $257.15 and snacks contributed $86.01 per student. In 2014, revenue from meals increased to $272.01 and snacks dropped to $64.02 per student.
"Our findings suggest that concerns about school revenues or participation in meals programs are not strong arguments for rolling back USDA's healthier meal and snack standards," said Cohen. "In fact, schools may even see improvements in meal program participation or revenues overall when USDA implements the next phase of Smart Snacks standards in 2016."
The study adds to a growing body of evidence in support of USDA's healthier standards for school foods.
"This study shows that doing what's best for our kids can be financially viable," said Monica Hobbs Vinluan, senior program officer at RWJF. "These findings should encourage everyone who's working to build a Culture of Health in our schools—from food service workers to education leaders, parents, students and advocates—that a better future for our children is within our reach and not at all beyond our means."
There were some limitations of the study, including that it represented 11 school districts in Massachusetts where 32 percent of students were eligible for free or reduced-price meals. Only seven districts provided financial data for all three years and all of the districts managed their snack sales. Revenues may differ in districts that outsource snacks to vending companies as those districts only receive a portion of the revenues from their snack sales. Among schools in the study, 27 percent were rural, 27 percent were urban and 45 percent were suburban. The authors note that this geographic distribution is similar to national estimates and that the overall findings are likely generalizable to other school districts that manage their meal programs and snack sales.
---
About Healthy Eating Research
Healthy Eating Research is a national program of the Robert Wood Johnson Foundation. The program supports research on environmental and policy strategies with strong potential to promote healthy eating among children to prevent obesity, especially among lower-income and racial and ethnic populations at highest risk for obesity. For more information, visit www.healthyeatingresearch.org.
---
About the Robert Wood Johnson Foundation
For more than 40 years the Robert Wood Johnson Foundation has worked to improve health and health care. We are working with others to build a national Culture of Health enabling everyone in America to live longer, healthier lives. For more information, visit www.rwjf.org. Follow the Foundation on Twitter at www.rwjf.org/twitter or on Facebook at www.rwjf.org/facebook.
---
For more information, contact:
Melissa Blair
609-627-5937
media@rwjf.org