Leading Nutrition Research Program Offers Best Practices that Promote Autonomy, Structure, and Repetition for Feeding Kids 2-8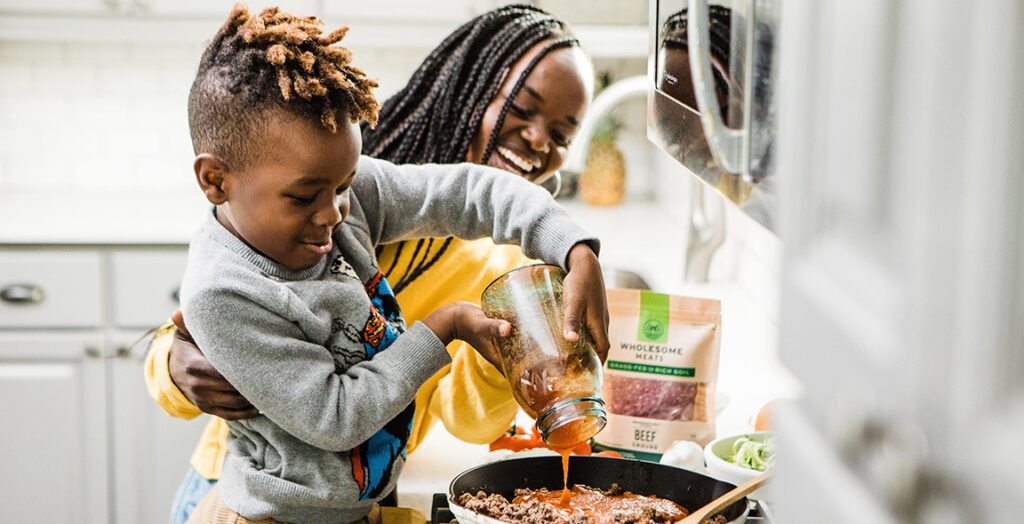 (Durham, NC) October 20, 2021 — Autonomy, structure, and repetition are key to helping young children develop healthy eating habits according to new research-based recommendations that offer actionable tips for parents and caregivers on how to feed kids ages 2-8. A panel of experts analyzed research on parenting and feeding styles to determine which foods and parenting practices encourage trying and eating new, healthy foods. 
The research showed that structuring the environment to provide healthy choices and supporting children's independence in trying and learning to like new foods are more effective than pressuring children to eat. They also found the single most effective strategy to get kids to eat healthy food is repeated exposure. Kids may need to try something up to 15 times before knowing if they like it or not.
"Childhood is a critical period for the development of eating behaviors and habits that last into adulthood," said Megan Lott, MPH, RD, deputy director of Healthy Eating Research (HER), which convened the expert panel. "As a registered dietitian and parent myself I know that getting young kids to try new, healthy foods can be a big challenge because reluctance to try new foods and other picky eating habits are common during these years. By providing parents and caregivers clear, evidence-based recommendations on how to feed children ages 2-8, we can make mealtime easier and help families raise healthy eaters."
To develop the evidence-based recommendations, HER, a national program of the the Robert Wood Johnson Foundation (RWJF) based at Duke University, convened a national, 15-member expert panel, with diverse expertise in nutrition, pediatrics, psychology, family medicine, sociology, and child development to review scientific research and develop evidence-based best practices and recommendations for how to feed children. The panel members conducted an extensive review of scientific literature and existing guidelines to inform their work and also discussed and reviewed the final recommendations. 
"Home is one of the first places where habits emerge, but currently, little guidance, particularly evidence-based guidance, exists about how parents and caregivers can provide supportive, structured environments that help their kids eat healthy," said Julie Lumeng, MD, expert panel co-chair. "We developed the recommendations to give parents and caregivers, as well as health and child care professionals, actionable tips to feed children in ways that promote healthy eating habits, while respecting families' food budgets."
The recommendations are designed to promote optimal nutrition and encourage the development of lifelong healthy eating habits. These habits play a vital role in growth, development, overall health, and the prevention of obesity and other lifelong, diet-related chronic diseases. This is especially timely given the newest national data that show one in six kids have obesity and rates have surged as a consequence of COVID-19. In addition, sharp disparities persist with the highest obesity rates among youth of color and youth from households with low incomes. 
"Our national policies must do a better job of supporting the health and well-being of children and families, as well as prioritizing equity and making healthy food available and affordable," said Jamie Bussel, senior program officer at the Robert Wood Johnson Foundation, which funded the report. "In the face of significant, systemic barriers to good health, we must do what we can to ensure parents, caregivers, and the providers who work with young children have reliable, evidence-based information to help promote healthy eating and ultimately optimal health for all kids."
The full set of recommendations and accompanying technical report, which contains the evidence behind the recommendations, can be found at www.HealthyEatingResearch.org. The site also contains parent-friendly materials including videos that feature different ways to implement the recommendations and infographics. Three previous HER expert panels' healthy eating guidelines for families, including feeding guidelines for infants and young toddlers 0-2; drink guidelines for kids 0-5 and beverage guidelines for kids and adults 5+,  can also be found on the site. 
###

Healthy Eating Research
Healthy Eating Research is a national program of the Robert Wood Johnson Foundation (RWJF). The program supports research on policy, systems, and environmental change strategies with strong potential to promote the health and well-being of children, and that advance health equity in the areas of nutrition, nutritional disparities, and food security.
Robert Wood Johnson Foundation
The Robert Wood Johnson Foundation (RWJF) is committed to improving health and health equity in the United States. In partnership with others, we are working to develop a Culture of Health rooted in equity, that provides every individual with a fair and just opportunity to thrive, no matter who they are, where they live, or how much money they have. For more information, visit www.rwjf.org. Follow the Foundation on Twitter at www.rwjf.org/twitter or on Facebook at www.rwjf.org/facebook.