Our goal is to accelerate evidence-based strategic, actionable, and equitable solutions for improving children's weight and nutrition, diet quality, and food access and security. HER grantmaking focuses on children and their families, including pregnant women,with a priority on lower-income and racial and ethnic minority populations that are at highest risk for poor health and well-being and nutrition-related health disparities.
Healthy Eating Research (HER) supports studies to identify and evaluate policy, systems, and environmental change approaches. These changes can occur at multiple levels: organizational, community, state, and national. HER funding targets focused studies, shorter in duration, that strategically address timely, policy-relevant research questions.
What is Policy, Systems, and Environmental (PSE) Change?
Policy, Systems, and Environmental Change (PSE) strategies modify settings where people live, learn, work, and play. These strategies go beyond programming to embed changes in a community, and are designed to be more sustainable and reach a larger number of people than programming alone. PSE changes aim to create communities where healthy choices are easy, safe, practical, and affordable for all.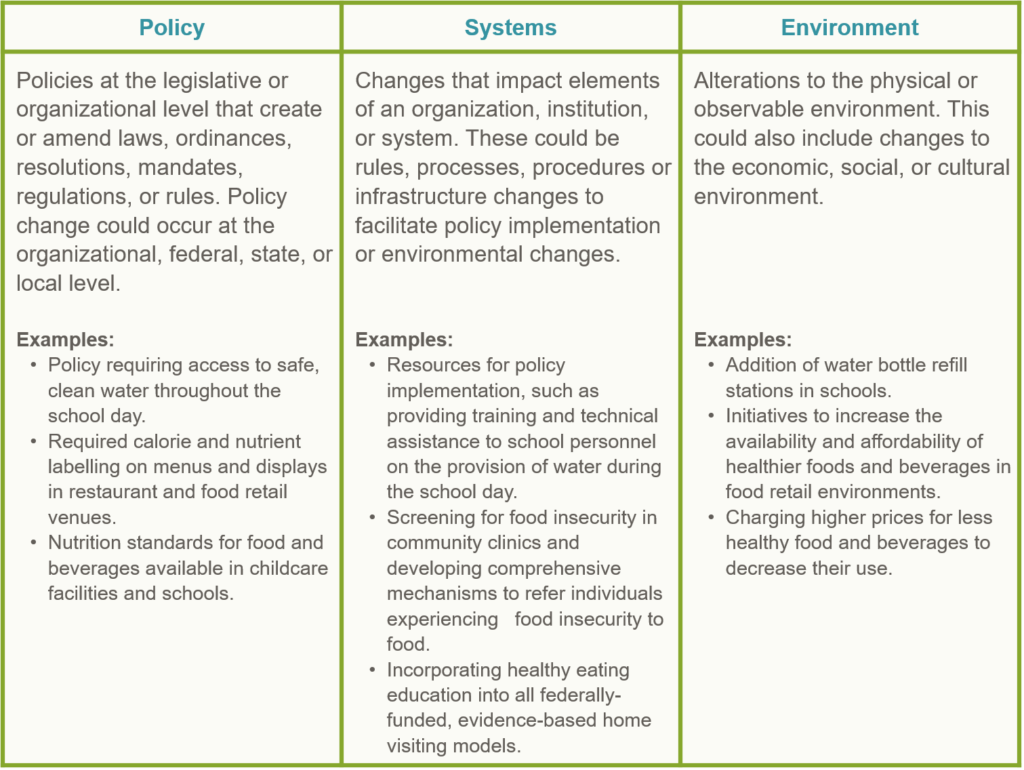 Where Can I Find Examples of HER-Funded Research?
For examples of funded studies, please visit our research and publications page, and filter the resource type by "Grant Summaries."