Written by Dr. Harry Zhang, Old Dominion University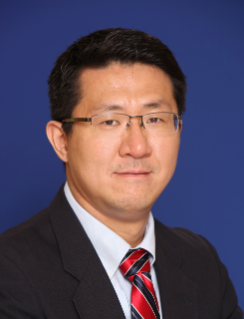 During the COVID-19 pandemic, online ordering surged in popularity as an alternative method of grocery shopping to reduce the risk of virus infection. But participants in the USDA Special Supplemental Nutrition Program for Women, Infants, and Children (WIC) have historically not been able to participate in online ordering due to federal regulations that require a cashier's presence to redeem WIC food benefits.
Some states began piloting WIC online ordering models during the pandemic that allow participants to order food online and pick up and pay for their orders at the store or at curbside. We're learning that these models have benefits beyond reducing virus risk. Online ordering is convenient and time-saving. And, it might improve redemption of WIC benefits, helping participants get the most out of program participation. At the same time, there are numerous barriers to accessing and using WIC online ordering that require further study. A recent HER study led by Dr. Harry Zhang sheds light on these issues.
WIC online ordering in Oklahoma
In 2020, a "WIC-only" grocery chain in Oklahoma—which serves approximately 30% of the state's WIC participants—developed and implemented a WIC online ordering system allowing WIC participants to order food online and to pick up their orders with EBT card payment in-store or at curbside. Our team evaluated the chain's online ordering model to learn about implications for WIC participants. According to the interviews, both the grocery chain's employees and WIC customers agreed that WIC online ordering should stick around post-pandemic.
Online ordering has multiple benefits for Oklahoma WIC participants
WIC customers participating in the pilot described several motivations for using online ordering:
convenience and ease–especially for customers for whom it is inconvenient to shop in-store (e.g., pregnant women or single mothers with young children);
saves time–as customers did not need to look for and pick each food item from the shelves; and
reduced risk of COVID-19 infection during the pandemic.
In examining WIC administrative and online ordering data, we found evidence of improved redemption of WIC benefits in some food categories. For example, WIC online ordering customers had significantly higher redemption rates for infant formula, infant fruit and vegetable, cheese/tofu, yogurt, eggs, cereal, and juice. In contrast, those using online ordering had a lower redemption rate for low-fat milk than WIC customers shopping in-store but without statistical significance. Higher redemption rates are important because it means that customers are maximizing the nutrition benefits of the monthly WIC food packages.
Challenges to adopting online ordering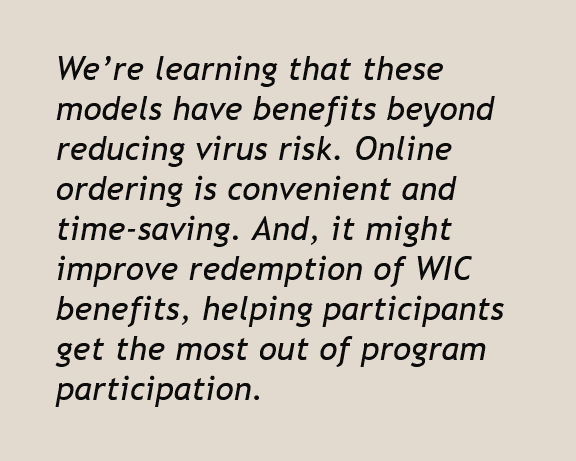 Despite the perceived benefits of WIC online ordering, only 5.4% of the chain's WIC customers used online ordering. Reasons WIC customers did not use online ordering include:
Lack of awareness and knowledge. Although the stores had been promoting online ordering through different channels such as signage and pamphlet cards, some WIC customers still did not know about or did not pay attention to the online ordering information.
Low technology readiness. Some customers did not have a smartphone, or their smartphones did not have space for another app. Some customers didn't know how to download and use the WIC online ordering app.
Inability to identify WIC benefit items and remaining balances on participants' packages. The grocery chain app used for online ordering was not linked to WIC participants' benefits, which meant that it was difficult to remember what WIC-eligible items are on their benefit packages and to know their remaining balance.
Preference to shop in-store. Some customers prefer in-store shopping and to choose their own fresh produce.
Lack of interpersonal influence. Some customers who did not use online ordering said that they did not know anyone who was using online ordering and had rarely seen anyone doing curbside or in-store pickup.
The future of WIC online ordering
In Oklahoma, the idea of WIC online ordering was popular with customers and store employees, and has the potential to be a beneficial option for WIC customers. But as a relatively new practice, there is room for improvement and a lot to learn.
We need more research on WIC online ordering, preferably with large-scale studies. State agencies can continue to pilot WIC online ordering to help us better understand customers' behaviors. Return-on-investment studies will help assess the long-term economic sustainability of WIC online ordering. With solid evidence and evaluation, state agencies will be in a better position to scale up online ordering for more WIC customers.
Additionally, technology providers can improve online ordering to serve the customer better. For example, linking the benefit balance to the online ordering system can help WIC customers order more prudently and confidently.
Read more about our research and the future of WIC online ordering.
Dr. Harry Zhang is a Professor of Community and Environmental Health at Old Dominion University. Dr. Zhang earned his PhD in Economics at the University of Alabama. He currently serves as Co-Chair of the HER NOPREN WIC Learning Collaborative. This project was funded through a Healthy Eating Research special rapid-response research opportunity focused on COVID-19 and the federal nutrition programs, to inform decision-making regarding innovative policies and/or programs during and after the COVID-19 pandemic.