Written by Kirsten Arm, MPH, RDN, Research Analyst, Healthy Eating Research
During the COVID-19 pandemic, the number of people receiving charitable food assistance in the United States increased by 50% (2019 vs. 2020) according to estimates from Feeding America. The charitable food system – a network of food banks, food pantries, and meal programs – played an important role in addressing food insecurity during the pandemic for roughly sixty million people. With adult and childhood obesity rates on the rise, focusing on food security alone is just not enough. A stronger focus on nutrition security – "having consistent access, availability, and affordability of foods and beverages that promote well-being and prevent (and if needed, treat) disease" – within the charitable food system is a crucial next step that Healthy Eating Research and its partners are striving for together.
Healthy Eating Research Nutrition Guidelines for the Charitable Food System
Prior to the pandemic, Healthy Eating Research (HER) recognized the need for evidence-based nutrition guidelines tailored to the unique needs and capacity of the charitable food system. In 2019, HER convened a panel of experts in the charitable food system, nutrition, and food policy fields to develop recommendations to improve the nutritional quality of foods in food banks and pantries. The resulting guidelines, Nutrition Guidelines for the Charitable Food System, were released in March 2020 at the National Anti-Hunger Policy Conference co-sponsored by Feeding America and the Food Research & Action Center, right before the COVID-19 pandemic shut down the country.
The expert panel, co-chaired by Dr. Hilary Seligman and Dr. Marlene Schwartz, reviewed numerous existing guidelines designed specifically for the charitable food system, guidelines from industry and the private sector, and the 2015-2020 Dietary Guidelines for Americans. Following review of existing standards, the expert panel decided to divide items into 11 distinct food categories and then rank foods into three tiers ("choose often," "choose sometimes," and "choose rarely") based on key nutrients of concern. The decision to focus primarily on three nutrients to limit – saturated fat, sodium, and added sugar – is based on evidence linking increased consumption to increased risk for diet-related chronic diseases, including obesity, diabetes, hypertension, and cardiovascular disease. A snapshot of the guidelines is shown below and the full table can found in this one-pager.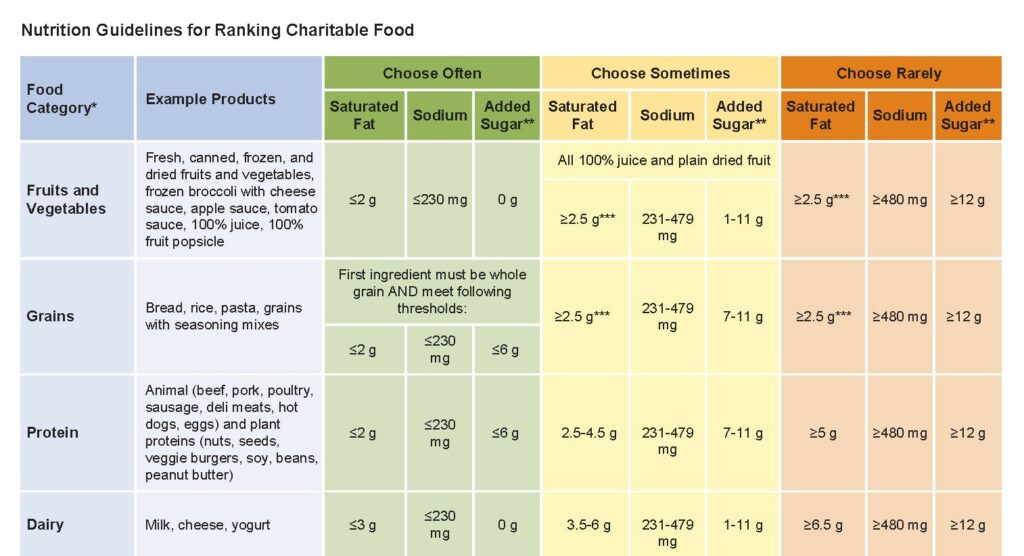 Implementation of the HER Nutrition Guidelines
To support implementation of the HER Nutrition Guidelines, HER has developed partnerships with organizations across the country who are also focusing efforts on supporting nutrition security within the charitable food system. Over the past year and a half, HER has been partnering with these organizations to develop and disseminate various tools and resources to support food banks and food pantries in implementing the guidelines. Two examples of our collaborative efforts follow.
Supporting Wellness at Food Pantries (SWAP)
In order to minimize confusion across food banks and pantries, the overarching goal is to have one set of evidence-based nutrition guidelines that can be implemented in food banks and pantries nationally. SWAP, a program of the FoodShare Institute for Hunger Research & Solutions, is a stoplight nutrition ranking system to help promote healthy food choices at food banks and food pantries. SWAP was developed in 2016 and revised in 2020, with funding provided by HER, to fully align with the HER Nutrition Guidelines. Katie Martin, Executive Director at FoodShare, developed and piloted tools to help food banks and food pantries operationalize the HER Nutrition Guidelines.
Feeding America Nutrition in Food Banking Toolkit
Feeding America, the nation's largest domestic hunger-relief organization, adopted the HER Nutrition Guidelines and is encouraging its more than 200 network food banks to implement the guidelines by 2025. To support implementation, Feeding America developed a Nutrition in Food Banking Toolkit, which is designed to aid food banks and food pantries in addressing food security while also focusing on providing access to nutritious food. Healthy Eating Research served as a partner in the development and review of the toolkit along with several expert panel members.
Feeding America released section 1 of the toolkit in March 2021 and Section 2 in September 2021. The updated SWAP tools and resources mentioned above were included in section 2 of the toolkit to assist the Feeding America network in operationalizing the guidelines.
Future Plans
Since release of the HER Nutrition Guidelines in March 2020, there has been tremendous interest from researchers, advocates, decision makers, and practitioners about how best to support food banks and pantries in implementation and where to go next. Significant efforts to date include $1.2 million in grants to Feeding America network food banks, CDC's Building Resilient Inclusive Communities (BRIC) project providing implementation support to grantees, American Heart Association embedding the standards in guidance for their community teams working with emergency food assistance, and Partnership for a Healthier America promoting the guidelines with their food bank partners. Large-scale implementation of the HER Nutrition Guidelines nationwide is a major effort and accomplishment. Moving forward, we must focus our collaborative efforts on impacting the upstream flow of food into the Charitable Food System to further support food and nutrition security.
To learn more about the HER Nutrition Guidelines and the various tools and materials available to support implementation, please refer to the resources listed below:
Supporting Wellness at Pantries (SWAP)