In 2018, Healthy Eating Research (HER)—a national program of the Robert Wood Johnson Foundation (RWJF)—developed a national research agenda to reduce the consumption of sugar-sweetened beverages (SSB) and increase access to and consumption of safe drinking water among 0- to 5-year-olds. Through this process, it became clear that a lack of consistent recommendations for beverage consumption in early childhood was one barrier to shifting consumption patterns. In response, HER convened an expert panel of representatives from key national health and nutrition organizations—the Academy of Nutrition and Dietetics, the American Academy of Pediatrics, the American Academy of Pediatric Dentistry, and the American Heart Association—to develop a joint consensus statement on what children ages 0 to 5 should drink as part of a healthy diet. The resulting consensus statement was released in September 2019, along with a technical report outlining the scientific evidence and a suite of consumer-facing materials at HealthyDrinksHealthyKids.org. A summary of key panel findings and recommendations can be found below: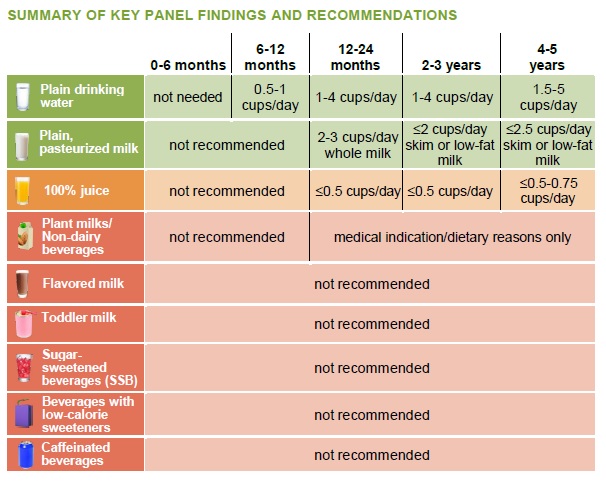 HER is currently conducting implementation research among health care practitioners (e.g., Pediatricians, Pediatric Dentists, Registered Dietitian Nutritionists) to inform the development of continuing education content that will educate practitioners about the HER beverage recommendations and support implementation in practice. A mixed-methods approach using surveys (quantitative) and focus groups (qualitative) will be used to better understand the following:
current patient education/counseling practices on beverage topics;
perspectives on the recommendations for young children's beverage consumption; and
perceived barriers and facilitators to implementing the recommendations in practice.
If you have questions about this research, please email us at: healthyeating@duke.edu